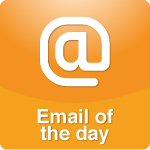 April 24, 2013A Future for My Family
Dear Dr Laura,
I just wanted to thank you for inspiring me to turn my hobby into a business.
I was a stay-at-home mom until my youngest went to school. I have been subbing at schools here while my husband, who was laid off, looks for another job.
I was working in my sewing room, making an adorable burp cloth for my brother's new baby, using pieces of my grandmother's old clothes. While working on it, I was listening to your podcast where you were commenting on how special it was to make jewelry with photos because you felt connected to the people for whom you were making it.
I teared up.
I knew exactly what you were talking about. I have made many things for family members from stuff from our grandparents. I also make people T- shirt quilts and other memorabilia. They always love them and I love making them.
I am going to do what I have to do to be able to be at home with my kiddos and you have inspired me to make this fulfilling pastime a way to make a future for my family. Thank you for all you do.
Sincerely,
Shannon
Posted by Staff at 1:15 PM