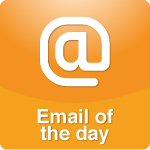 March 15, 2012Out of the Mouths of Babes
I received a few jokes from my grandmother today in an email. I really strive to listen to the advice of this woman who successfully raised 3 of her own children and 3 of her husband's children (both were widowed when they married). This one caught my eye especially as I am raising my own children!
A Sunday school teacher was discussing the Ten Commandments with her five and six year olds. After explaining the commandment to 'Honor thy father and thy mother,' she asked, 'Is there a commandment that teaches us how to treat our brothers and sisters?'
Without missing a beat, one little boy answered, 'Thou shall not kill..'
From the mouths of babes!! LOL! Thank you for being the voice of not only reason, but responsibility!
Cindy
Posted by Staff at 1:43 PM