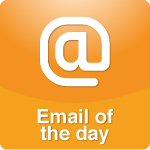 November 5, 2015Pushing The Envelope
Dr. Laura:
As a fellow sailor, I'm sure you will appreciate this short story about 'going for it.' I was a boy of about 12 when this happened. We were at an annual championship sailing regatta on Long Island Sound, racing 'Blue Jays' which were small two-person boats with mainsail, jib and spinnaker. I was a small, skinny kid, and my 'crew' was Mimi, a tall skinny girl who weighed about 70 pounds.
The wind was howling when we got on the water and some of the parents and kids decided not to even go out. The race started and we tacked furiously to the windward mark. As we neared the mark, we were in about 20th place. Mimi looked at me like I was crazy when she realized I was going to put the spinnaker up. Of course, as a sailor, you know the risks involved. We rounded the mark and promptly set our spinnaker, and started passing every single boat with a full head of steam. We hung on for dear life and the boat was barely under control. We fluctuated between scared and elated. As we got to the end of the leg, some of the other boats started doing the same thing.
Unfortunately for us, one of the other boats caught us and after a spirited, match race style battle beat us by a boat length. I was disappointed in the result but I never would have even been in that position if Mimi and I hadn't 'gone for it.' We were wet, cold, and tired, and we pushed the envelope. We finished second that day, but still made the Sports section of the New York Times!
John (now 53) in Houston.
Posted by Staff at 10:59 AM