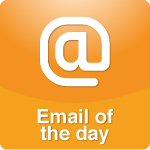 August 24, 2012How to Cook a Husband
While searching through a 400 page handwritten cookbook from 1946, I came across a very simple recipe on page 424. It has a corny picture of a husband in a hot frying pan. I had to read on, and here's what it said:
"The first thing to do is to catch him. Many a good husband is spoiled in the cooking. Some women keep them constantly in hot water, while others freeze them with conjugal coolness; some smother them with contention and others keep them in a pickled state all their lives. These women serve them with tongue sauce. Now, it is not to be supposed that husbands will be tender and good if treated in this way; but they are, on the contrary, very delicious when treated as follows:
Get a large jar (call it the jar of carefulness), place your husband in it and place him near the fire of conjugal love; let the fire be pretty hot, especially, let it be clear. Above all, let the heat be constant.
Cover him with affections; garnish him over with spices of pleasantry. If you add kisses and other confections, let them be companioned with a sufficient portion of secrecy mixed with prudence and moderation. It is OK to overcook the affections at any time. Simmer for a lifetime."
Diane
Posted by Staff at 2:15 PM