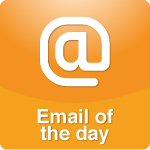 January 5, 2012Even My 3-Year-Old Gets It
This morning I was reminded twice of why my husband and I chose for me to stay at home with our two sons, who are almost 3 years old and 18 months old. While my family is sleeping, a few mornings each week I wake at 5 am to go to the gym down the street to work out. This morning, as I was walking back home at 6:15am, I passed the day care next to the gym and saw a mother getting her sleepy toddler out of her car and take her into the day care. I almost cried. I couldn't imagine having to do that 5 days a week to my two babies and my immediate thought was how lucky I am I don't have to. When I got home, I snuggled into bed with my husband and showed him how much I appreciated all he does so I can stay at home and care for our babies all day.
Later that morning, when my older son got up, he started playing with his toy telephone. Like lots of kids, he uses his favorite toys to express his own thoughts and feelings. This morning, he told my husband and me, "Telephone likes to stay at home with his mommy." He proceeded to talk about how "telephone" likes to go to the park with Mommy, go to the library with Mommy, to snuggle with his mommy. I asked him if he likes to do all those things with his mommy too, and he said "yup!" Then he gave me a big hug.
Dr. Laura, these two incidents just validate what I already know: I am doing the absolute right thing for my kids. I have NEVER doubted it and I NEVER will!

Alicia
Posted by Staff at 1:00 PM