February 11, 2013Chinese New Year
By Cheryl Tallman
www.FreshBaby.com
The Chinese New Year is one of the most important and longest festivals in the Chinese calendar. Starting on Feb. 10 and culminating in the Lantern Festival on Feb. 24, the Chinese New Year is a great celebration.
2013 is the Year of the Snake. People born in the Year of the Snake are said to be charming, cunning, proud, passionate, and wise. They are also said to be elegant and attractive with a passion for the better side of life. They have excellent business sense and people skills.
On the eve of the Chinese New Year, families will gather to have a feast and celebrate with a festive Chinese family dinner. Traditional Chinese favorites include spring rolls, dumplings, lettuce wraps, cold sesame noodles and long-life noodles. Whole fish and whole chicken dishes are also traditional New Year foods. Food plays a significant role in the Chinese New Year celebration. Here are some Chinese foods and their significance at New Year:
Whole chicken: Family togetherness
Noodles: Long life
Spring Rolls: Wealth (Their shape is similar to gold bars.)
Lettuce: The Cantonese word for lettuce sounds like "rising fortune."
Tangerines and oranges: The Cantonese words for tangerine and orange sound like "luck" and "wealth," respectively.
Fish: The word for fish, "Yu," sounds like the words for both wish and abundance.
Sweet, steamed cakes: Rich, sweet life abundance in the coming year
Enjoy these recipes and "Kung Hei Fat Choi" (Chinese for "have a prosperous and good year")!
Chinese Dumplings

Ingredients:Dough: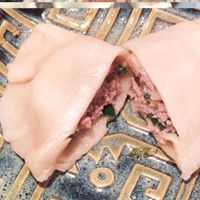 1 1/2 cups all-purpose flour
Pinch of salt
1/2 - 3/4 cup cold water
Filling:
4-6 oz. ground pork
1 tsp. salt
1 Tbsp. soy sauce
1 Tbsp. sesame oil
1 Tbsp. Chinese rice wine or dry sherry
2 tsp. fresh ginger, finely minced
1 clove garlic, finely minced
1 green onion, finely minced
1 1/2 cups spinach, finely shredded
4 Tbsp. water chestnuts, finely diced
Dipping Sauce:
2 Tbsp. soy sauce
1/2 Tbsp. rice vinegar
1 Tbsp. honey
1 tsp. sesame oil (optional)
Directions:
Make the dough first. Stir the salt into the flour. Slowly stir in the cold water, adding as much as is necessary to form a smooth dough. Knead the dough into a smooth ball. Cover and let the dough rest for 30 minutes.
While the dough is resting, prepare the filling ingredients. Add the soy sauce, sesame oil, salt, and rice wine to the meat, stirring to combine the ingredients. Add the remaining ingredients and mix well.
To make the dumplings: Uncover the dough and knead it into a smooth ball. Divide the dough into 25 pieces. Roll each piece out into a circle about 3 inches in diameter.
Place 1 tablespoon of the filling into the middle of each wrapper. Wet the edges of the dumpling with water. Fold the dough over the filling into a half moon shape and pinch the edges to seal. Continue with the remainder of the dumplings.
To cook, bring a large pot of water to a boil. Add the dumplings, giving them a gentle stir so they don't stick together. Bring the water to a boil and add 1 cup of cold water. Cover and repeat. When the dumplings come to a boil for a third time, they are ready. Drain and remove. Serve with dipping sauce.
Make the dipping sauce by stirring together all ingredients in a small bowl.
Tip: Leftover dumplings can be warmed up by pan frying them in small amount of oil.
Dan Dan Noodles

Ingredients: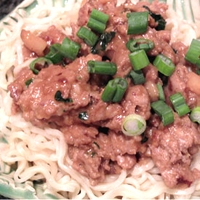 1/2 lb. long-life noodles or 3 packages (3 oz.) Ramen noodles
1 lb. ground turkey or chicken
3 Tbsp. ginger, minced
2 Tbsp. garlic, minced
4 Tbsp. water chestnuts, diced
2 Tbsp. oil
Peanut sauce:
1/4 cup sherry
3/4 cup chicken broth
3 Tbsp. creamy peanut butter
2 Tbsp. soy sauce
1 tsp. sesame oil
Directions:
Make the peanut sauce by whisking together all ingredients. Set aside.
Cook the noodles (according to package directions) in a large pot. Drain.
In a large bowl, mix together turkey, ginger, garlic, and water chestnuts. Heat oil in a large skillet over medium-high heat. Add turkey mixture and flatten it out with a spatula. Cook until it begins to brown. Turn meat over and brown the other side. Turn heat down to medium and break meat is smaller chunks with a spatula. Stir in peanut sauce. Simmer until turkey is cooked through and sauce thickens.
Serve sauce over noodles. Sprinkle with sliced green onions as a colorful garnish.
Chinese Restaurant-Style Green Beans

Ingredients: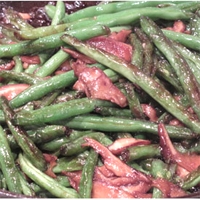 1 Tbsp. soy sauce
1 Tbsp. brown sugar
1 Tbsp. water
1 Tbsp. butter
2 Tbsp. oil
1 Tbsp. garlic, minced
12 oz. green beans
4 oz. shiitake mushrooms, sliced
Directions:
Stir together soy sauce, brown sugar, and water in small dish and set near the stove.
In a large straight-sided sauté pan or a wok, heat the butter and oil over medium-high heat. When the butter is melted, add the green beans and toss with tongs to coat them with the butter mixture. Cook, turning occasionally, until green beans are browned, shrunken, and tender, about 7-8 minutes.
Reduce heat to low and add mushrooms and garlic, stirring constantly for about a minute. Stir the soy mixture well, and pour it over the beans. Cook, stirring until the liquid reduces to a glazy consistency that coats the beans and mushrooms, about 1 minute. Serve.
Chicken Lettuce Cups
Ingredients: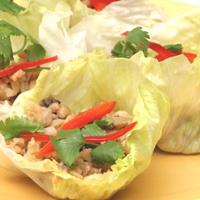 2 heads of butter or Boston lettuce
lb. boneless chicken thighs, minced
1 tsp. salt
2 tsp. cornstarch
7 Tbsp. cooking oil
2 tsp. ground ginger
2 garlic cloves, minced
2/3 cup bamboo shoots, diced
2/3 cup carrots, diced
4 Tbsp. soy sauce
2 Tbsp. rice wine or cooking sherry
2 Tbsp. rice vinegar
Garnishes:
1/2 cup hoisin sauce
1/2 cup red pepper, thinly sliced
1/4 cup cilantro, chopped
Directions:
Break off and wash whole lettuce leaves. Arrange on a plate and place in the refrigerator to remain crisp.
In a plastic bag, mix together chicken, salt, cornstarch, and 1 tablespoon cooking oil. Let the chicken mixture marinate for 15-30 minutes.
Heat 4 tablespoons cooking oil in a wok over high heat. Add chicken and stir-fry for 2-3 minutes. Remove chicken from the wok. Add ginger and garlic to the wok. Then add bamboo shoots and carrots. Stir-fry for 2-3 minutes. Add chicken, soy sauce, rice wine, and vinegar. Stir-fry over high heat until liquid is absorbed. Place chicken mixture in a large bowl.
To serve: Place bowl of chicken and cold, crisp lettuce leaves, hoisin sauce, and green onions on the table. Place one lettuce leaf on a plate and add a spoonful of chicken mixture in the middle of the lettuce leaf. Drizzle with hoisin sauce and sprinkle with red pepper and cilantro. Fold the lettuce leaves inward and eat with fingers.
About the author: Cheryl Tallman is the cofounder of Fresh Baby, creators of the award-winning So Easy Baby Food Kit, and author of So Easy Baby Food and new book, So Easy Toddler Food: Survival Tips and Simple Recipes for the Toddler Years. Visit Cheryl at www.FreshBaby.com for more delicious tips.
Posted by Staff at 5:00 AM