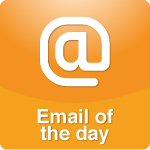 July 30, 2013Give-a-Lot, Take-a-Little Marriage
Dear Dr. Laura,
I smiled to myself just now when I heard the newlywed woman and her motorcycle lovin' man. I must share my parents' story...
I am the baby of eight children. I am 29, married a little over ten years to my love, no children yet, but we're hoping.
When I was between the ages of 4-6, my dad was expecting a $10k bonus from work. On several occasions, he tried convincing my mom that he really needed to buy this fancy red convertible. My mom pushed back, but to no avail, he kept trying. At one point, he played the card, "But Ann, it's always been my dream to have this car..." My wise mother said in turn, "It's always been my dream to have a dozen babies. Do you want to make my dream come true?" Needless to say, he dropped it.
Now he's living the real dream. He is still married to his sweetheart. His license plate reads "LuvinAnn" and he is Grandpa to 24 grandchildren. I am so grateful for the give-a-lot-take-a-little relationship my parents taught me. They are truly inspiring.
Teresa
Posted by Staff at 11:02 AM