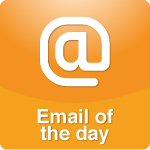 March 29, 2013From the Mouths of Babes
Hi Dr. Laura,
I've been meaning to write you a note of appreciation and gratitude over the past 5 years when I left my career (with your virtual encouragement) to be my 3 kids' mom (now 13, 11, and 9 - and I'm still lovin' my hubby of 14 years). Thank you for introducing me to the best job ever: "Mom & Domestic Engineer" -- my business cards are on order from Vista Print...
My kids listen in the car whenever you're on. They sometimes whine, "How long is Dr. Laura going to be on?!!" wanting to get back to Hits 1 and the Justin Bieber Channel on SiriusXM. This led me to believe they had tuned you out.

A couple months ago, my 9-year-old's teacher was getting married. A note went home with the kids asking the parents for advice for a happy marriage. They were making a class journal for the soon-to-be groom.
I came across this note a week AFTER the wedding and I asked my son why he never gave it to me and his dad to fill out. His reply, "I didn't need to. I just wrote 'Choose wisely, treat kindly' "
Let's just say I think my kids are tuned in more than I thought!
We'll be tuning in every day - thanks for being you and being a big part of our lives!
Jan
Posted by Staff at 12:17 PM