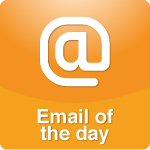 April 23, 2020I will ALWAYS Be His Girlfriend
I've been listening since a very young age. I'm 34 now, and I've finally taken your dating advice and found an incredible man. When we first started dating, one of the first conversations we had concerned having kids - I wanted to make sure he wanted them - and making sure that he would agree that when we do, I'd stay home with them. He said he wouldn't want it any other way. We dated for two years, are not shacking up, and are getting married later this year, once we can gather together again. Because of you, I am adding into my vows that I will always be his girlfriend!


My parents were divorced when I was five years old. I've only seen my dad a total of five times in the last 15 years, and I talk to him on the phone three times a year. For a micro-second, I wondered if I should invite him to the wedding. I decided not to and felt really good about my decision. I have an amazing mom and an awesome older brother, who has always been there for me. They are going to be the ones to walk me down the aisle, just as I have dreamed since I was a little girl. Father-daughter dance? No. It's going to be a MOTHER-daughter dance, and then my brother will cut in and dance the other half of the song with me.


Jenna Leigh
Posted by Staff at 2:01 AM