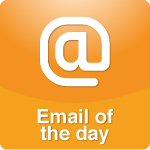 April 8, 2013Old-Fashioned Courtship
At 95 years old and 20 years widowed, my now-frail dad is still a real mensch. While courting my mom, this is only one of the many romantic things he did: He knew she was out with her mother and would have to pass his house on the way home after dark. So when he saw them coming up the street, he stood in the lighted window on the 2nd floor and played Schubert's "Serenade." Immediately my mom decided she was going to marry him.I know they had their financial and emotional difficulties through 50 years of marriage, but we kids (seven of us!) always saw Dad defending Mom. They never showed any disagreement in front of us.
Dad always held the door for her and his 3 daughters. He made sure he walked on the street-side of the sidewalk when walking with one of us, and gave us Valentine candy every year. Mom did not go back to work until I, the youngest, was 14 (and then we all worked in the family business). I never had any confusion about who I was, or whether I was loved. We all had to work hard and our parents would not tolerate backtalk or slacking. I thank God every day for the generous parents He gave us, their perseverance, the faith they passed on to us, the small gestures of respect for each other, the time they spent with us as a family (every day off, Dad dedicated to his family), the service they gave to church and community and most of all, to us. I owe God big-time, and it will take my whole life to pass it on.
To this day, my dad is bewildered whenever anyone praises him for something. He just thinks he's done what he had to do. What a man!!!
God bless you for the work you do, Dr. Laura. Keep telling it like it is!
Elaine
Posted by Staff at 11:57 AM