March 24, 2011Ahoy Neighbor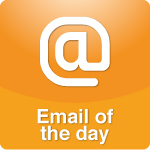 Hi,
I've never called or emailed before but I am my kids' Mom and have wanted to contact you for a while but hadn't gotten around to it yet with a 15-month-old and 3-year-old keeping me very busy. When I saw your boat, Katana, docked just a few slips down from me today, I had to write.
First off, we live aboard our boat so if there is anything you need while visiting SDYC, please let us know. My 3-year-old son and I were admiring Katana tonight as we walked by.
My husband and I married almost 10 years ago now and just 6 months into the marriage bought our first sailboat together that would end up taking us across the Pacific and back over a period of 3 years. What started as a 6 month trip into Mexico ended up taking us beyond our wildest dreams into the South Pacific, as far south as New Zealand. We conceived our first child while in the Marshall Islands and then began our 5,000 nm + trip back across the Pacific. Since we only planned a 6 month trip into Mexico, and had wanted to do it sooner than later (wanting to start a family soon), we didn't have many of the luxuries many cruisers have. So, our 41 day passage was just my hubby and me...and our little stow away baby in my belly. We could listen to our short wave radio but could not transmit, had no email, nor sat phone. During this time, you entertained me every day during one of my long 6 hour shift on watch. In fact, my shift was scheduled around when you aired on the Armed Forces radio because it helped me get through my long shifts when I was having the worst morning sickness and so ready to get off the boat. I wanted to thank you for keeping me company and giving me things to think about.
I also wanted to echo your claim that it IS possible to be a stay at home mom, regardless of circumstances. Heck, we managed to quit work for THREE years to go cruising and together my husband and I were making less than 80K before leaving. Now, we live aboard our boat (sadly but practically a power boat at this time), and I stay home with our two beautiful children. We hope and plan to move "up" to a sailboat in the next few years so we can once again cruise to the South Pacific and introduce our children to another world out there.
Granted, there are things we go without but it is worth it. Unfortunately part of that is missing your program now that you've moved to satellite radio, but I still enjoy snippits of you through your emails, blog, and stories relayed from your program by one of my girlfriends.
Anyhow, just wanted to let you know how much you were a part of our lives during our sailing adventures (particularly our long passages).
Cheers,
S.
Posted by Staff at 11:44 PM