March 23, 2011Take What Time You Get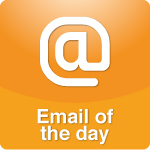 Dear Dr. Laura,

I called in to your show last year right before Mother's day. My "dilemma" was my daughter spent all of the holidays with her in-laws. I am not sure if you remember the call, but I was one of those "whiners" you always talk about. After talking with you for awhile, you convinced me so what if I don't get the "holidays" just enjoy all the other times I have with her and her family. You also told me not to be so persnickety (oh boy you hit the nail on that one)! I want to thank you for that advice as I had so much more awesome times with her and when I told her I had spoken to you she could not believe it!
We had many, many, gatherings since then (in fact more than the in-laws)!
I want you to know I just buried my baby (my daughter) March 17th after being diagnosed with Stage IV Melanoma two weeks after giving birth to my second grandson. She was my only child, 30yrs old and left behind two babies 3yrs and 5mos and a wonderful husband. I can't thank you enough for the advice you gave me and please pass this on to other mothers who bicker over time with their adult children. Take what time you can get and make the best of it.
Thank you so much for the advice as it gave me much more time than I could ever expect! God Bless you....

Cyndi
Posted by Staff at 11:05 PM