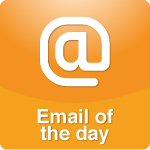 February 6, 2013My Baby Daughter Has You to Thank for her Stay-at-Home Mom
Dear Dr. Laura -
Today was supposed to be my first day back to work after four months of maternity leave, but I didn't go.
Two weeks ago, I gave my notice, and you're a big reason why my husband and I decided the best job for me is to stay at home with our daughter. I interviewed nannies and even had a day care selected, but when I would think about leaving our daughter with a stranger, I literally got sick to my stomach.
I have an MBA and have worked hard to get where I am professionally, but no job outside of the home compares to the one I have inside the home. I chose my husband wisely and definitely treat him kindly; we both support each other and realize that all the financial sacrifices we are making right now are worth being able to raise our own child.
Shopping trips to Nordstrom have been replaced with coupon clipping and diaper runs, but you know what? I don't miss it, and I definitely don't regret my decision. Without the stress and time commitments of working outside the home, I can proudly say I have the time and energy to be my kid's mom and my husband's girlfriend.
Thank you for all your preaching, teaching and nagging. I am proof that it works!
Marcelle
Posted by Staff at 10:45 AM