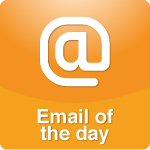 August 22, 2019Thank You For The Reminder
I grew up listening to your program with my mother. So, when I got engaged seven years ago, I bought a copy of "
The Proper Care and Feeding of Husbands
" for myself! I try to read it annually leading up to our wedding anniversary, but the last three years, the tradition slacked a bit, because I had two babies two years apart. It's been busy and neither of my kids is fond of sleeping!
Still, I was properly caring and feeding for my husband (or so I thought) until I came to the "What's Sex?" chapter. An opening quote from a listener reads "Sex is to a husband what conversation is to a wife." I read that phrase to my husband the other day while we had a quiet kids-free moment in the kitchen. He smiled, grabbed my toosh and said "Well, let's get talkin'!" Our life has been more "smiley" since. I am happier, and my husband's kisses are deeper like when we were dating (something I've missed). Thanks for reminding us wives that sex really is THAT important!


Shania
Remember, all of you can send me "letters" too - by email! Just sign into (or sign up for) the Dr. Laura Family - it's free - and tell us of your experiences.
Posted by Staff at 10:59 AM