July 27, 2010Tip of the Week: June 7th, 2009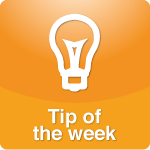 Things to do When Traveling by Car and Light Snacks For Kids
This is the time of year when families begin to plan for their vacations and many will be taking to the roads via automobiles and need help in trying to make it a good experience.
Some pointers are listed below:
Plan ahead and get the kids involved in the planning the trip along with a map or road atlas.
Discuss what you will see and perhaps get a video of where you are going.
Check out possible points of interest along the route and stop there for meals or a stretch.
Kids enjoy talking into a tape recorder to "report" what is out the window or other momentary facts.
Bring along a bag of distractions. Hand them out only as a last resort.
When traveling with kids, get things for them to share and things just for each child. "Trouble-Free Travel With Children" by Vicki Lansky, (Book Peddlers, $9.95) has tons of things to do with your children as well as plenty of ideas to do before you get started to ensure it is the best one yet. The "Everything Kids Travel Activity Book," by Erik Hansen (Adams Media Corporation, $6.95) has many choices for kids in the age range of 8 to 12.
Think about buying music that everyone in the car will enjoy like "Kids' Roll Party," (Lightyear Entertainment, $6.95) has cool rock 'n roll tunes from the 70's in today's kids' words and themes.
Start your trip early around 3:00 a.m. so the kids will still want to sleep through the morning, make frequent stops to use the bathroom, eat light snacks, run around, stretch at the rest stops and do not let the kids drink caffeine.
Nutritious treats to think about can be the small pre-boxed raisins, cherries, cranberries, trail mix or buy the larger sized containers and make up your own by mixing and adding dried non-sugar cereal.
Alternatives for Keeping up with Children's Activities and Meals
Have a large "at-a-glance" calendar. Place it on the counter by the telephone. Write any appointments, deadlines or activities on it with a colored pencil. Put the person's name or initials followed by the event. Use different color pencils for each name. Use the same color for the same person. Everyone can glance at the calendar and know what is going on by color.


Have a large calendar on the wall. Make sure it has big squares representing the days of the month. Write down everything - including meal choices that each member of the family has decided on. This way, there will not be any "what are we having for dinner" questions or who chose it.


Organize your day by time. Clip all papers from camp counselors, childcare teachers or anything from the school for the upcoming school year in chronological order on the refrigerator. Once a week make a schedule of the following weeks' events, organized by day. Each day is organized by time. This schedule is posted on the refrigerator. Don't forget to add who is to do what to help in the kitchen and other chores.


Keep a diary by the telephone. Each day is a page, and all activities are entered plus meals for the week. You can often refer to it for what happened the previous year around the same time and even look to see if there was a meal you cooked that the family particularly enjoyed.


Plan snacks and meals in advance. Having meals planned in advance can save time, energy and arguments. If you know your weekend is going to be spent mainly in the car, quick easy to clean up meals and snacks are timesaving and healthy alternatives to stopping at the fast food window. Cut up vegetables the evening before and place in a glass container filled halfway with water. This keeps them extremely crisp. Drain them in the morning and place in the top tray of an ice chest enclosed in a "freezer" baggie. Place sliced fruit in a freezer bag in the same area.
Jodie Lynn is an internationally syndicated parenting/family/health columnist. Her latest paperback book is Mommy-CEO: 5 Golden Rules, 2001 revised edition, which covers family and health tips. Check out the new Mom, CEO totes, cups and T-shirts on the
www.ParentToParent.com
website and order yours today. All moms are working moms and are the real CEOs in life. Jodie Lynn originated the terms, Mommy CEO, Mom CEO and CEO Mom and all implications in "honoring balance in the life of moms/women," in 1989 and in print since 1996. Preorder her newest book, Mom CEO: Avoiding the Distressed Housewife Syndrome and Winning at Motherhood, soon! copy;2005 Jodie Lynn. Permission granted for use on DrLaura.com.
Posted by Staff at 7:22 PM