July 27, 2010Tip of the Week: July 16th, 2010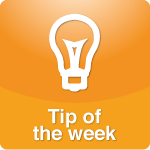 Simple Avocado MangoSalad
By Cheryl Tallman
www.FreshBaby.com
Ingredients:
Salad:
1 avocado, cubed
1/2 mango, cubed
1 graham cracker, crushed
Honey-Lime Dressing:
2 Tbsp lime juice
1 Tbsp rice vinegar
1Tbsp Honey
1/4 cup olive oil
Directions:
Prepare dressing: In small bowl, whisk all ingredients together.
Salad: Arrange avocado and mango cubes on a plate or bowl. Drizzle withdressing. Sprinkle with graham cracker crumbs. Serve.
Cheryl Tallman is the co-founder of Fresh Baby, creators of theaward-winning So Easy Baby Food Kit, and author of the
So Easy Baby Food Basics: Homemade BabyFood in Less Than 30 Minutes Per Week and So Easy Toddler Food: Survival Tips andSimple Recipes for the Toddler Years. Visit Cheryl online at
www.FreshBaby.com for more delicious tips. Permission granted for use on DrLaura.com.









Posted by Staff at 7:22 PM