July 27, 2010Tip of the Week: March 29th, 2009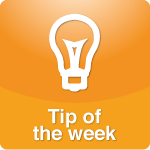 Easter Egg-stravaganza!
By Tawra Kellam
http://www.LivingOnADime.com/
OK, so the kids noticed on the calendar that Easter is approaching and they want to make a huge production of dying eggs. In the past, the little stickers you bought at the store sufficed, but now they want the real thing. Here are some old standards with a few new ideas for you.
Before you decorate Easter eggs
, cover the entire table with newspaper. Keep a huge roll of paper towels or rags handy for messes. Have each kid wear one of dad's old (now disposable) tee shirts.
To make egg stands
, cut toilet paper roll cores into one inch cylinders and use for egg stands. Decorate with stickers or paint.
Decorating eggs the traditional method.
Hard boil eggs. Fill several mugs with boiling water and add 1-2 tsp. vinegar. Place a few drops of desired food coloring in each mug. Place eggs in mugs for several minutes until eggs reach desired shades. Remove with a spoon. Place on paper towel to dry. When dry, polish with a small amount of shortening on a paper towel. Buff until glossy.
You can draw or write on the eggs with a light colored or white crayon before dipping. The drawing will remain white after the egg is dipped. To clean out mugs, put a little bleach water in the cups and soak for a few minutes.
Glitter Eggs
- Place 1 tablespoon each of glue and water in a cup. Stir the mixture and then paint the eggs with it. Sprinkle with glitter. This can also add sparkle to already dyed eggs!
Crepe Paper Eggs
- Wet a white or dyed egg. Dab torn pieces of colored tissue paper or pieces of pretty colored napkins on the eggs. When the paper dries, the paper falls off and leaves the color behind on the egg.
vvvv
Decoupaged eggs
- Tear small pieces of wrapping paper, napkins, stickers, or clip art. Mix equal amounts of glue and water. Paint egg with glue mixture. Place paper on top and then cover with more glue mixture. Let dry.
Spotted Eggs
- Place 1 tsp. of cooking oil in dye. Dip the egg. The oil will cause the dye to make an irregular pattern on the egg.
Waxed Eggs
- Dip a portion of the eggs in melted paraffin or candle wax. Then dip them in the dye. Remove from dye. Dry and peel off the wax. The egg will be white on one half and colored on the other half. You can also dip in dye before waxing to get two colors.
Tawra Kellam is the publisher of
http://www.LivingOnADime.com/
and is an expert in frugal living. Tawra and her husband paid off $20,000 debt in 5 years on $22,000 a year income. Permission granted for use on DrLaura.com
Posted by Staff at 7:21 PM