July 27, 2010Tip of the Week: July 26th, 2005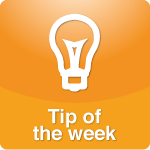 Summertime Play
By Jodie Lynn
www.ParentToParent.com
Summer is full of activities for kids to do, right. Yet it's amazing when in no time flat parents everywhere will hear those two dreaded words, "I'm bored."
As with most of us, you will literally come to a point in time when you will simply shrug your shoulders and maybe even scratch your head and wonder, how in the heck they can already be bored.
Many kids do the same thing year after year. They can almost recite their summer schedule even before it is implemented. This year, why not offer them something that they will simply not be counting on.
Get their creative juices flowing by suggesting they either put on a play of a favorite book, TV show, a game or better yet -- just make one up? Let them write it and decide on who plays which part. In fact, they will be busy for days just writing and rehearsing it.
Turn over the kitchen table and let them make a plan, goals and run wild with their imaginations. As the parent, stay out of as much of the endeavor as possible by letting them handle things. Don't intervene unless they ask you to or if someone is doing something that is unsafe.
Go bananas on the wardrobe by making do with "stuff" you have around the house. For example, use old hats, shoes, dresses, pants, shirts, belts, etc., to make up awesome costumes. Get out the glue gun (or purchase one for $1.99), create, and design awesome custom-made dress up clothes. Cover the kitchen table with either an old vinyl tablecloth or a sheet of plastic painter sheet. Take a magic marker and draw large squares for each one of the kids on the cover of the kitchen table; i.e., old tablecloth or painter's plastic sheet. This square should have their name on it and will be their specific work area.
Let them add beads, ribbon, feathers or whatever you have handy to jazz up old clothes. Encourage them to save their money to buy miscellaneous items at neighborhood garage sales.
The kids can go around and sell tickets (made out of construction paper) for.25 and tell neighbors to bring their lawn chairs. Select music and have fun with a huge and successful neighborhood play.
Before you know it, the kids will make up many other plays and help themselves right into creative summer time learning without ever knowing it.
Following directions, learning patience, enhancing reading skills and gaining self-esteem are only but a few things that will come from allowing them to put on their own plays.
Once again, you will be amazed at what kids can do on their own or with very little supervision, if you will let them.
copy;2005 Jodie Lynn
Jodie Lynn is an award-winning internationally syndicated family/health columnist and radio personality. Parent to Parent is now going into its tenth year and appears in newspapers, magazines, newsletters and throughout the Internet. She is a regular contributor to many sites including eDiets.com and is the Mom to Mom Expert for BabyCenter.com. She has written two books and contributed to two others, one of which was on Oprah and has appeared on NBC in a three month parenting segment. Her latest best-selling parenting/family book is
Mommy CEO, revised edition
. Preorder Lynn's new book, "Mom CEO: Avoiding the Distressed Housewife Syndrome and Winning at Motherhood," online or from any bookstore. Permission granted for use on DrLaura.com
Posted by Staff at 7:21 PM