July 28, 2011A Fateful Turning Point in My Life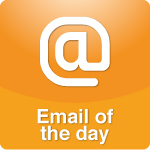 Recently, Dr. Laura asked on Facebook.com/DrLaura: What was a fateful turning point in your life?

Dodi's Response: Fateful? Fateful? Eleven years ago I was in a dead end physical relationship auditioning to be somebody's wife. Your bitchy righteous attitude show was unfortunately the only thing I could get on my AM radio in the back room of my office. I was forced to listen to you telling people to quit whining about their current situations and do something about it, and forced to listen to your cutting-to-the-core truths about women who shack up and then lament their crappy boyfriends when they get pregnant and then their men leave for other women and leave them with a baby and no daddy...

I listened to your relentless program, not by choice, yet after awhile I was unable to turn it off. It was like watching a train wreck and I was powerless to turn away -- because it was me you were talking about. And one day, after no longer being able to deny that everything you were saying described my loser boyfriend and surely my loser future, I just woke up. I stopped the physical relationship with him - made the decision overnight. No kidding. Resolved I would NOT get pregnant with this guy, who I would never be satisfied with. Realized there was a guy out there dying to meet me, dying to get married and have a good wife, a family, a stay at home mom - all the things I wanted to be - and I didn't care if I had to wait ten years to meet him. I had this feeling my real family, my husband, my kids, were somewhere out there in my future and I was going to change for them - whoever they were. So after six years, I ended it with this guy, kicked him out, and decided to take a break.

I was talking about all this to a 55 year old co-worker and she encouraged me in my thinking. Later that year, I went on a friendly date with her son (an acquaintance) to the rodeo; ten years later we are a strong, faith-based married couple, with three fabulous kids. And though it's not easy, I've been home for all of their 8, 6, and 2 year old lives in our modest 1100 square foot ranch home. I run an at-home bakery, they go to a parochial school, and life could not be better. You, Dr. Laura, and your righteous painful truths reached my heart and turned me back to the person I wanted to be. So I tell anyone; quit whining. Take responsibility. Every day is a new day to make your own life. I always said someday I would send you my story. YOU were fatefully the only radio channel I could get in that back office. I changed my life inspired by your truths. There is no better fate in my life. Thank you - I hope this post reaches your eyes. You make a difference. Keep it up. I am sure I am not the only life you have changed.
Posted by Staff at 12:00 AM