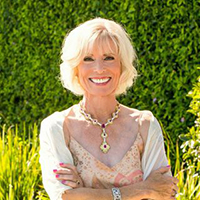 Dr. Laura Schlessinger, your artist in residence for this Children of Fallen Patriots Foundation Designs Store, has been helping people be and do better in their lives for almost four decades on radio. She is happily nestled in at SiriusXM 111 and enjoying the ability to be heard live across the country (and anytime you want on podcasts!).

Dr. Laura (as she started to be called at the beginning of her on-air career by folks who gave up on pronouncing "Schlessinger") has always been involved in working for various charities, especially those having to do with children and military veterans. Between selling her personally handcrafted items online, and various public appearances (most notably her "Birthday Dance Bashes") she never disappoints with her commitment to the cause.

Here she goes again! One thing about Dr. Laura that amazes all of us is that she is constantly on the prowl to learn new things: glass artwork, polymer clay, wire wrapping, fine silver metal clay, and most recently, returning to weaving, handknitting, and crocheting. This Designs Store is the recipient of her passion and hard work. She has been working this year on knitted and crocheted apparel and crafting her collection of semi-precious stones into fine silver jewelry. We are very excited to present her work with the goal of helping Children of Fallen Patriots Foundation.

Dr. Laura wants to show deep appreciation for the companies and people who helped her make this all possible:

CREATIVE PARADISE (Stephanie O'Toole) donated wonderful impression molds.
ART CLAY WORLD, USA (Jackie Truty) provided a generous amount of high quality silver clay.
AAE GLASS (Mark Veit) provided enamel decal sheets and silver pendant settings.
MELROSE NAMEPLATE & LABEL absorbed the set-up costs.