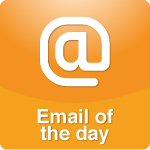 ...My husband and I married young, I often use the phrase, "Don't regret it, Don't recommend it." One thing my dad did say to me during our engagement was, "I'll never have to worry about you financially. Your husband-to-be is a hard worker." ...
More >>
Tags: appreciation, Attitude, Behavior, Gratitude, Husband, Motivation, Values
PERMALINK | EMAIL | PRINT | RSS

My husband and I are coming up on our 10th Wedding Anniversary. To be completely honest, 6 years ago, I didn't think we would make it here...
More >>
Tags: Adultery, affair, appreciation, Attitude, Behavior, gratitude, grief, Marriage, Men's Point of View, Mental Health, Motherhood-Fatherhood, pregnancy, selfish, The Proper Care & Feeding of Husbands, The Proper Care and Feeding of Husbands, Women's Point of View
PERMALINK | EMAIL | PRINT | RSS