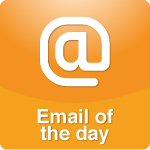 I've listened to you since I was a senior in high school and have shared your wisdom with my two daughters, aged 12 and 10. Both recently did things I was very proud of. One daughter in junior high told me she saw a girl sitting by herself at lunch and asked if the girl wanted to sit with her. Then my youngest daughter told me that kids in her class had to run a mile. One girl fell as they started their run, and everyone ran around her. My daughter stopped to help her up. I told them both how proud I was of them and how proud YOU would be of them, as I explained how important you have been in my life, Dr. Laura, helping shape me into being a good mom.

My young one has a project for school in which she is to cut out or print anything that can mean the word "power." I heard the computer printer working hard the other night, and then she deposited her papers on our kitchen table. Among the images she printed were Dr. Martin Luther King, doctors, technology, money, and YOU, Dr. Laura! She included you to represent the word "power." I couldn't have been prouder. She's only ten years old and already she knows that your voice is power and a legacy that will live on through all your listeners and our children. Thank you for all you've done for me and my family.


Lindsay
Remember, all of you can send me "
letters
" too - by email! Just sign into (or sign up for) the Dr. Laura Family - it's free - and tell us of your experiences.