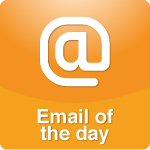 I've been married for 13 years with three young children. I am now my husband's very loving girlfriend, but for the first half of our marriage, I was not. Sometimes, I wasn't even his friend. I did not have a clear picture of what it meant to be a loving wife. It took my husband telling me that I could leave if I wanted because he felt there was nothing he could do to make me happy that led to our decision to separate. Then my Dad told me something that stopped me in my tracks, and which I've heard you tell many women since then who are where I was years ago. He said, "You need to know that if you leave him, another woman will be raising and loving your children as a Mom. Can you be okay with that?" Of course, I could not. And neither could my husband.


We got down to work, got counseling and really dug ourselves out of the deep trenches we were in. These days, we still have ups and downs, but we truly LOVE one another and respect one another. Recently, my sister-in-law called to say SHE was going to leave her husband. Nothing could change her mind. That's when I uttered those same wise words that my Dad had told me. Three days later she called me with a new attitude, saying that for three solid nights she imagined another woman raising her children, and on the third night, she knew what she had to do. She and her husband are now on the long, but important road to happiness and mutual respect. Thank you, Dr. Laura for telling the truth to couples who are thinking of divorce.


Laurie
Remember, all of you can send me "
letters
" too - by email! Just sign into (or sign up for) the Dr. Laura Family - it's free - and tell us of your experiences.