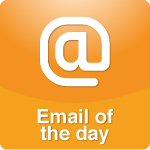 Hi Dr. Laura:

Today, I watched three of my five grandchildren, so my youngest daughter could drop the other kids off at school and go have lunch with a friend. I love spending that time with them. We played with toys, read books and took a long walk. I was about to make lunch for them, when I noticed the lunch boxes my daughter had sent with them. Inside were the most organized and nutritional lunches! I was happy to see this.


Then a thought occurred to me - my daughter is an amazing mother, wife and daughter. She loves taking care of her family. When I looked at the packed lunches, I thought "she is a professional Mom." "Stay-at-home Mom" is a privilege and a great title, but if someone was to ask her what she did for a living, I thought a great response would be "I am a professional Mom." Being a real mom takes great ingenuity, patience, insight, forethought, planning, investigation, timing, budgeting, and the ability to multitask on a moment's notice, all without ever taking a vacation or a sick day. I was a "professional Mom" as well, but I wasn't that organized, and I lived in sweatpants! Still, it was the best thing I ever did, and I'm glad my daughter is carrying that legacy on with HER children.


Angela
Remember that you can either read "
The Proper Care and Feeding of Husbands
," or you can take my video course based on the book. To find out more about the course, go to marriage one oh one dot com.