By Cheryl Tallman
FreshBaby.com
Edamame and shiitake mushrooms are very common to Japanese cooking. Edamame (pronounced ed-ah-MAH-may) are little green gems - packed with protein and loads of nutrients. Including shiitake mushrooms in this puree is a great way to introduce your baby to the distinctive taste of umami.
Shiitake & Edamame Puree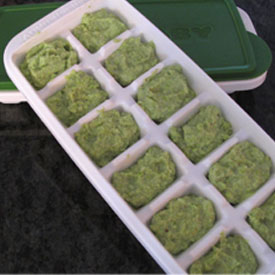 4 oz. Shiitake mushrooms, stems removed
12 oz. (2 cups) shelled edamame
1 tsp. soy sauce, optional
Directions: Bring 6 cups of water to boil in a stock pot. Add edamame and cook for 4 minutes. Drain edamame in a colander and place them in a blender or food processor. In a small sauté pan, heat oil over medium heat, add mushrooms and cook for 2-3 minutes.
Add the mushrooms, soy sauce and 3/4 cup of water to the edamame in the blender. Process until the mixture is a smooth puree. If needed, add additional water.
Spoon the puree into your So Easy Baby Food Trays, cover and freeze until ready to use. Serve as a vegetable dish for your baby's meal with mashed brown rice, meats or fish.

Toddler Treat: Okonomiyaki
Okonomiyaki is a Japanese-style pancake and is very popular with kids. There are restaurants all over Japan that specialize in making okonomiyaki. These places have special tables with a griddle built into them. Families are seated around the griddle, they cook their okonomiyaki and eat them. We chose to make this dish with cabbage, green onions and shrimp, but you can use almost any shredded vegetable and chopped meat combination.
Okonomiyaki Pancakes: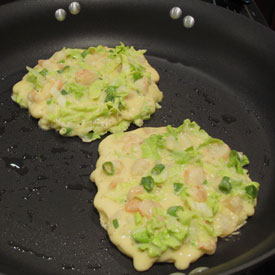 3/4 cup Nappa cabbage, shredded
5 cooked shrimp, chopped or 1/4 cup cooked chicken, chopped
2 green onions (green parts only), chopped
Okonomiyaki Sauce
:
1 tsp. Worcestershire sauce
Directions: Combine flour and baking powder in a medium size mixing bowl. Gently mix in the water and egg. Next, add the cabbage, shrimp and green onions and mix them together thoroughly.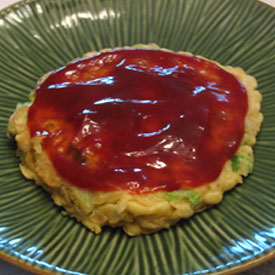 Heat a skillet over medium heat and lightly oil. Spoon the okonomiyaki mixture into the skillet to make 2 pancakes (about 4-inches wide).
Cook about 4-5 minutes and turn it over with a spatula and cook an additional 4 minutes. Both sides should be a light golden brown and the pancake will be firm in the center.
Serve on a plate and spread the sauce over the okonomiyaki

Cheryl Tallman
is the co-founder of Fresh Baby, creators of the award-winning So Easy Baby Food Kit, and author of
So Easy Baby Food
and the new book
So Easy Toddler Food: Survival Tips and Simple Recipes for the Toddler Years
. Visit Cheryl online at
www.FreshBaby.com
for more delicious tips. Permission granted for use on DrLaura.com.