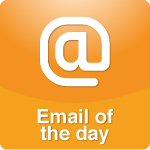 Your special hour focused on "How You Remain Your Husband's Girlfriend" gave me lots of ideas and reinforced things I am already doing. My husband works 12-hour rotating shifts days to nights, so I'm up on the early days sending him off with love and a hot breakfast in his belly and greeting him home in the evenings. On his night shift rotations, I lay in bed with him until he falls asleep in the morning.

All our kids are in school, and I work occasional substitute hours at one of the schools, but my husband told me he prefers me at home not only for our children, but for him. He likes knowing I'm there for him, and not because he is forcing me, but because I want to be there.

We've encouraged and helped each other grow in many ways. I've learned to understand what my husband does to show me his love - like giving me things because he thinks of me. Not diamonds, but good tennis shoes he thinks I'll like. He scrapes my car windows on very cold days, because he wants to do it for ME, which is the same way that he feels about the way I do things for him.

My dad introduced me to your program. He used to slip your books onto my bookshelf as I was growing into a young woman. I didn't listen to you then, and I went on to make many mistakes in my life, but my dad was always there through it all. I started listening to you six months ago, and many things I hear you say I remember hearing from my dad. So, you have become a great source of comfort and teaching for me, even though much of it was channeled through my dad when I was young.


Katrina
Remember that you can either read "
The Proper Care and Feeding of Husbands
," or you can take my video course based on the book. To find out more about the course, go to marriage one oh one dot com.