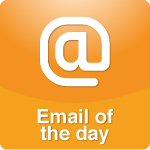 Within the past year, I discovered your "Call of the Day" podcast and now listen to it regularly. You've helped me tremendously over the last six months. I'm newly married and always had a problem prioritizing and balancing my own life with that of my immediate family. I've felt guilty when I have put others before my family, which has created friction in my new marriage, but listening to you has really opened my eyes.


I realize now that I must put my husband first before my family, and I can't feel guilty about doing so. It's okay for me to say "no" to them. I also need to accept the relationship I have with my sister, and not expect it to be anything more. It won't be how I would like it to be.


My husband shows that he loves me in various ways, like changing my windshield wipers, doing little things around the house and always coming home to me. I need to stop sweating the small stuff, and focus on what really matters, because tomorrow is not promised. I only wish I would have started listening to you consistently a long time ago.


With much love,


Melinda