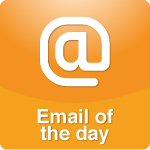 I got married on ZOOM last week, and everything about it was perfect. My now husband and I were the only ones in the house except for a photographer outside. Our officiant and family and even the wedding party were all connected electronically, and the event was broadcast to all our "guests." We were able to invite many more people than we would have with an "in-person" reception, and the response was heartwarming and overwhelming. Everyone needed something positive and happy to connect to, and many people even dressed up to watch from home!


Each time you've spoken to callers lately who have had to rearrange their wedding plans, your encouragement and guidance to them helped shape our wedding plans - to great success. I had no doubt about whether or not to marry my husband, but having the confidence from your comments that doing it online in a broadcast would say something significant to other people and set an example as well as giving them a gift was meaningful to me.


My husband and I are both devoted listeners and followers of your work. He is not perfect, and neither am I, but I am certain that he is perfect for me (and I put that in our vows). Thank you for everything you've taught me. I know I chose wisely, and I'm looking forward to a lifetime of treating him kindly.


Adrienne