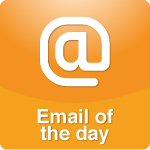 I'm a home health physical therapist and wanted to share a story I heard from one of my clients. He's 85 years old and widowed.

He told me he first saw his wife when he was 16 years old, and knew immediately that she was the woman he would marry. He heard through friends that she said about him "Well, he doesn't talk to girls well, and his ears are too big!" That's when he figured he better get to work, and among other things, began having his barber leave his hair long around his ears!

He finally won her over several years later, and they married. About 10 years ago, his wife developed a rare neurological condition in which she progressively lost all motor function, and eventually, he had to place her in a nursing home.

For seven years, he woke up at 5:30 AM every morning to drive the 30 minutes to the home to feed her breakfast and spend the day with her. Someone at church told him he should give himself a break since this was almost like going to a job every day. He told this individual "No, this is very different! When I had a job, there were days I woke up and didn't feel like going, but not one time in seven years have I ever woken up and not wanted to go see my wife."

What a sweetheart, and a very special man.

Suzanne


Remember, all of you can send me "letters" too - by email! Just sign into (or sign up for) the Dr. Laura Family - it's free - and tell us of your experiences.