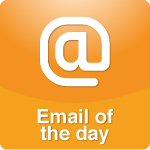 My husband and I have been married for 31 years. My husband is not always easy to live with, nor am I, but I subscribe to your philosophy about the "
proper care and feeding of husbands
," and when I focus on it and him, his best side always shines through. A few months ago, he sent me flowers (there was no occasion) with the note "
I love you because you are who you are!
" Just today, he sent me flowers again (also not a special occasion), and his note said "
Come rain or come shine, I love you today as much as when we first met.
"

I posted a photo of the flowers on Facebook and tagged him, so all his friends would see it. In my caption I said that the flowers were "a surprise from my adoring and adorable husband." Shortly thereafter, one of my Facebook friends, an older and long-married gentleman, posted in reply "You have to acknowledge your queen!" I just smiled a very big smile.

I cannot thank you enough for the boost your philosophy gives to my marriage every time I need it. My husband has no idea I listen to you or that I'm following your guidance. Let's keep it our little secret!

Thank you!

Gabrielle