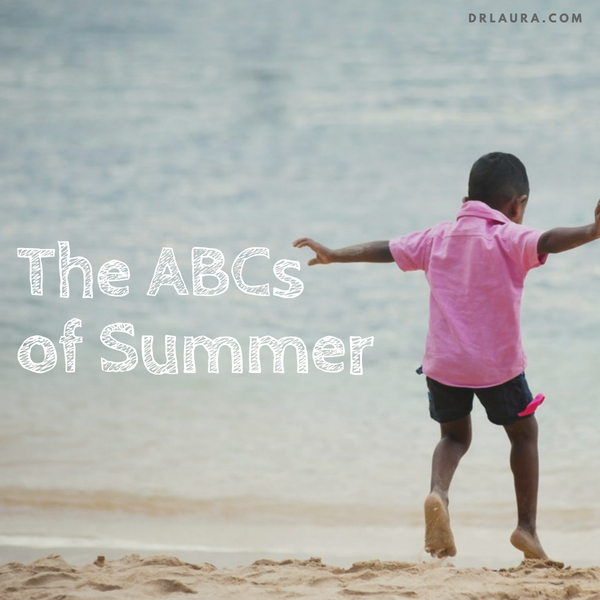 This idea came from one of our beloved listeners.

"On the first day of summer break when we found ourselves out on Antelope Island, my son said, 'A is for Antelope Island,' and an idea was born."

You can go in alphabetical order and hope to finish by the end of the summer. It would be just as fun to go in random order and try to accomplish 26 activities in a month! Our list is made up of inexpensive activities in our area but you can easily make your own list.

Here are some tips for making a list of your own:


Have a brainstorming session with the kids. Ask them what fun things they would like to do this summer. They'll be able to make a great list that will probably include things like a water balloon fight, making ice cream, or having a picnic. This way you'll be able to fill in your list with easy activities you would naturally be doing this summer anyhow. Once you have this list, you can supplement with activities you've researched as suggested below.


Look up local parks, pools, hikes, and activities in your area. There are compiled lists available online that you can pick and choose from according to the letters of the alphabet.


Look up your local library system. They will have calendars online for the various libraries near you and the free events they are offering.


Download the AllTrails app. Type in the name of the cities nearest you, and it will tell you all the hikes in the area. Just remember that even though the app rates a hike as "easy," don't take that at face value. Do some extra research on the hikes to find out which ones are actually kid-friendly. If it gains a lot of elevation, has really rocky or tricky terrain, or is longer than 2-3 miles, it may be better for older kids. Plus, the best hikes for kids have something rewarding at the end like a waterfall, a lake, or a cave.


Think of friends and family members' names. Is there someone you could visit or invite for dinner?
If you can't come up with a list on your own, try this:
Airplanes (Make paper airplanes and fly them at the park or go to a military museum)
Badminton (Baseball, Basketball, Batting Cages)
Crafts
Dogs (Visit the local shelter and volunteer to walk the dogs)
Elderly (Do a service project for one of your elderly neighbors)
Farm (Visit a local farm or Farmers' Market)
Garden (Plant one) or Game Night (Play board and card games as a family.)
Home Improvement (Make something together to beautify your home)
Ice Cream (Make it homemade or go for a family outing)
Jump rope contest (Jell-O Wrestling would also be hilarious!)
Kid's Movie night w/ Kettle Corn
Lemonade Stand
Marshmallows (Make a fire and roast them up)
Night Games (Play steal the flag or hide-n-seek)
Olympics (Create a neighborhood or family Olympics)
Pool Party!
Quiet Acts of Service
Race (Make Pinewood Derby cars or Rain Gutter Regatta boats and have a race)
Splash Park
Tennis
University (See what free museums your local universities have to offer)
Volleyball
Water Balloon Fight
X Marks the Spot (Make a treasure hunt or try geocaching)
Yoga
Zoo