By Harry H. Harrison Jr.
fearlessparenting.com
First things first. This picture is not me. This picture is the way I think of me . . . Point being, I am way, way, way, way too young to be a grandfather.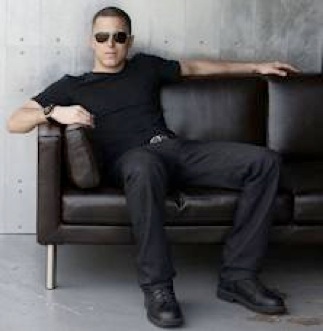 I am certainly in the 60 is the new 40's category, but regardless, I wear Italian clothing, work out relentlessly, actually introduced my sons and nieces to
Mumford and Sons
. I'm not talking about young at heart, I'm talking young. I throw away
AARP
invitations because they obviously have retrieved my name from a Russian database. I demand people NOT call me "
Sir
." I'm told women faint when they see me in a swimsuit. I know my wife seems to fall asleep at the sight.
Regardless, my son and his wife announced they were pregnant. I knew this was a possible outcome of their marriage ceremony, but I thought they would have the courtesy to wait seven or eight years like we did. Saying I have a daughter-in-law was freaky enough. "
My son is pregnant
," doesn't sound right. So the feeling occurs to me that I'm less ready to be a grandfather than I was to be a father. It's like being less ready to be 60 than you were 30 even though you thought turning 30 was totally frightening.
I'm at that juicy point in life where I'm not ready to be called "
senior
" or "
experienced
" or God forbid, "
old
", but it does seem 8-year-old girls now sail past me on the jogging trail. Plus my shoulders have become useless. They only serve to hold up my shirts. And I've bumped into these weird conditions like
plantar fasciitis
, torn biceps, not to mention this minor cardiac event that put me in the ICU for four days leaving me with a spiffy new stent in what's commonly known as the
widow-maker artery
.
Never the less, I can't get my mind around being old enough to watch my children have children. And let me add right here there will never be a Paw-Paw, Gramps, Grand Daddy or Pops in this house. My name is G-Daddy or if I have to relent, G-Pops. I'm told by those men with grandchildren that the kids actually name their grandparent, which sounds way too much like liberal claptrap to me. If my grandson ever wants milk and cookies, to play baseball or come out of the locked cabinet, he will call me G-Daddy.
Now that that's resolved, let me talk about the wonder of a parent seeing the results of their parenting. In some cases of course, that wonder is nothing short of a Shakespearean tragedy. I know parents who chose to do other things besides preparing their kids for adulthood, and now they and their kids having to deal with single motherhood, half-way houses, lawyers' fees, peeing in cups and hundreds of dollars missing from dad's house. The terrible thing is, I saw this happening twenty years ago, when their kids were six and four. Scientists know the first three or four years can dictate the rest of a child's life. So do parents in their sixty's. Because we're the ones to blame when our adult children aren't ready to grow up.
In our case, watching my formerly wild college student have a bible on his bedside table, go to church twice a week, study and listen to religious shows has literally brought me to my knees in gratitude. To say that I am blessed to live to see both of my sons grow into outstanding young, successful, honorable men is an understatement. I know "
To whom is given much, much will be required
," but the opposite is implied. "
To whom who gives much, much is given
." We invited God into our lives early in our marriage and have seen more miracles than could be believed. Now, I've been given the blessing of watching our children raised as God's children become adults, and one of them about to become a parent.
For years, it's been my mission to
guide and inspire adults to be better parents
. I've written a number of books like "
Father to Son: Life Lessons on Raising a Boy
", "
Father to Daughter:
Life Lessons on Raising a Girl"
, "
1001 Things It Means to be a Mom
" and in every book, I've stressed that the point of childhood is training for adulthood. Not that it shouldn't have it's charms and mysteries and wonders, because children will make that happen magically and inevitably; but that parents need to realize childhood is too important to waste. The preschool years are so important that many scientists (and writers like myself) believe they shape the rest of your life. You slog and grind through the teenage years only to be handed an estimate of college expenses that rivals many nations entire GNP. Sometimes you wonder what's the point of dragging them to church or a synagogue. Sometimes you're ready to cave in on an outfit too skimpy or jeans for a 15-year-old that are more expensive than your suit from
Neiman's
.
But then you watch your child transition to adulthood. They still don't know things, like to call the plumber when your toilet overflows, not the fire department, but they begin succeeding and failing and starting over and succeeding again. You watch in pride, as the lessons you wondered would ever sink through begin to be exhibited. They start showing up in church. They start making moral choices. They start shaping their lives around what they want of course, but with your voice in the background. My oldest son is in private equity, never married and would walk on his knees through nails for his family and friends. He's that loyal. He doesn't tell me but I know he prays. My youngest son is a successful dentist who married a divine, angelic woman and they're about to have a son.
So, here's what I've learned: parenthood is all about watching the children you raised become grownup. Watching them shape their morals and values and faith and persistence they learned from you.
Grandfatherhood will be totally different. It will be watching the child I raised act like the father he was taught to be. By me.
I only hope I covered everything.
Harry H Harrison Jr.
is a
NYTIMES
best selling parenting author with some 4 million books in print. He has been interviewed on over 25 television programs, and featured in over 75 local and national radio stations including
NPR
. His books are available in over thirty-five countries throughout Western Europe, Eastern Europe, Norway, South America, China, Saudi Arabia and in the Far East. For more information, visit
www.fearlessparenting.com
.
Permission granted for use on DrLaura.com.