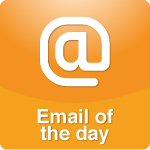 Several years after our first and only child was born, I became so angry with my husband, I decided I would replace him. I rekindled an old friendship and before long I was sneaking around behind my husband's back and seeing this 'friend'.
More >>
Tags: Adultery, Affair, Children, Commitment, Divorce, Marriage, Marriage vows, Parenting, Read On-Air, Regarding Dr. Laura
PERMALINK | EMAIL | PRINT | RSS

My husband and I are coming up on our 10th Wedding Anniversary. To be completely honest, 6 years ago, I didn't think we would make it here...
More >>
Tags: Adultery, affair, appreciation, Attitude, Behavior, gratitude, grief, Marriage, Men's Point of View, Mental Health, Motherhood-Fatherhood, pregnancy, selfish, The Proper Care & Feeding of Husbands, The Proper Care and Feeding of Husbands, Women's Point of View
PERMALINK | EMAIL | PRINT | RSS

"I'm in discussions with a company that wants me to be a sales representative for them. Basically I would get commissions 'to infinity' from any new customers I generate for the business within my assigned territory. I showed the brokers' contract to my attorney, and he isn't happy with the language..."
More >>
Tags: Adultery, affair, Character, Courage, Conscience, Character-Courage-Conscience, Cliff Ennico, Finances, Marriage, Morals, Ethics, Values, Stay-at-Home Mom, Work from Home
PERMALINK | EMAIL | PRINT | RSS