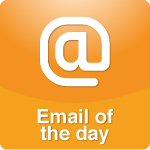 I found this 'recipe" and thought you might want to share it. It fits my wife as well as any wife who has a real man in her life. Thank you for all you do.
More >>
Tags: Admiration, Attitude, Behavior, Military, Military Wife, Raising Boys to Men, Read On-Air, Real man, Recipe, Recipes, Respect, Values
PERMALINK | EMAIL | PRINT | RSS

I just listened to your caller whose husband did not want to come home for leave from war, he wanted to just wait it out until his year tour was over and then come home. Years ago, I would have agreed with the wife, but where I am now in my life and marriage, I understand exactly why the husband feels the way he does.
More >>
Tags: Military, military wife, Read On-Air, Response To A Call, Values
PERMALINK | EMAIL | PRINT | RSS